Air Lift LoadCONTROLLER I On Board Compressor SINGLE PATH 25655
Item #: AL25655
Manufacturer: Air Lift Suspensions
Manufacturer's Product Number: 25655
Condition: New

**FREE SHIPPING
Shipments within the Continental U.S. ONLY
Air Lift LoadCONTROLLER I On Board Air System
Air Lift Part Number: 25655
Single Path-Fill 2 Air Spring Bags Evenly
Fill Your AirLift Air Bags From In Vehicle Cab
Heavy Duty Viair 100c Compressor Designed For Commercial Use
Complete Kit-Everything Included
Two Year Warranty
PRODUCT DESCRIPTION
Control your Air Lift air springs on the go with the convenience of Air Lift's 25655, Air Lift's heavy duty on-board compressor system. This kit will allow you fill two air bags simultaneously with even pressure distributed between bags. This option is perfect for vehicle with front or rear air bags.
-With the touch of a button, add air to your Air Lift air springs using the inflate buttons. Push the paddle on controller to deflate air from air springs. This is extremely convenient for changes in load or road conditions. If you've just hooked up your RV, trailer or put a load in the bed of your truck, you can inflate your air springs to the desired pressure immediately. You will not have to find a alternative air supply somewhere on the road.
-The Load CONTROLLER 1 25655 uses a reliable Viair 100c air compressor. Permanent magnetic motor. Stainless steel piston and aluminum head. The 100c comes complete with stainless steel leader line and spare air filters. The Viair compressors are designed to last for many years.
-The LoadCONTROLLER I 25655 system includes everything needed to install, including a heavy duty Viair 100c compressor, air release solenoids, air tubing, fitting, wiring harness, in-cab single path controller with gauge and detailed instructions for mounting and wiring.
-Control two air springs on one axle with the 25655. This system is not designed for use with an air tank.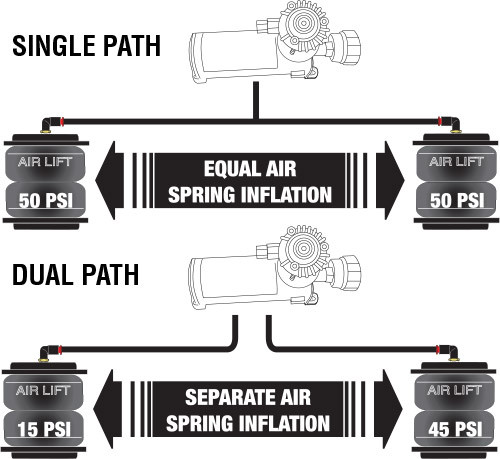 Click Here for DUAL PATH LoadCONTROLLER I Kit
The LoadCONTROLLER I 25655 air system installs with common mechanic tools in about 2 hours!
Click Here for Install Instructions
All on-board air compressor systems are quality tested in Air Lift's own ISO 9001:2008 certified facility.
ISO 9001:2008 standards ensure Air Lift products meet the highest level of safety and comfort.
Two Year Warranty
---
**FREE SHIPPING
Shipments within the Continental U.S. ONLY