Air Lift RideCONTROL Air Bags Springs Kit 15 16 FORD F150 59570
Item #: AL59570
Manufacturer: Air Lift Suspensions
Manufacturer's Product Number: 59570
Condition: New
**FREE SHIPPING**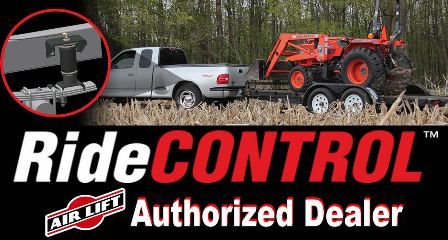 ---
AirLIFT 59568 RideControl Air Spring Kit
2000 Pound Load Leveling Air Bag Kit
Fits 2015 2016 Ford F-150 Pickup Truck
For 2WD (2x4) and 4WD (4x4)
**Will NOT Fit F150 Raptor SVT
60 Day Money Back AirLift Warranty
AirLift Lifetime Warranty
This 59568 AirLift RideControl Kit Fits:
*Does NOT Fit The Raptor Models
2016 FORD F150 PICKUP 2WD 2x4 *
2016 FORD F150 PICKUP 4WD 4x4 *
2015 FORD F150 PICKUP 2WD 2x4 *
2015 FORD F150 PICKUP 4WD 4x4 *
>Click Here to Find Different Vehicle
---
Features:
Mfg Part# 59570
-2000 Pounds of Leveling Capability-
-Adjustable air from 5 to 100psi-
-Includes 2 RideControl Air Springs-
-Air Tubing and Schrader Valves-
-Quick Connecting-EZ to Use Air Fitting-
-All Hardware Needed For Installing-
-EZ To Read Illustrated Instructions-
-Free Tech Support-
-2 Hour Install-NO DRILLING REQUIRED-
-AirLift 60-day ''No Questions Asked'' Money Back Guarantee-
-AirLift Lifetime Warranty on Air Springs / Hardware-
-Lifetime Warranty-No Mileage Restrictions-
Why RideControl Air Bags?
Improved braking and steering when all four tires are firmly on ground. Improved braking and steering.
Less Sway because AirLift RideControl air springs increase spring rate and vastly improve stability.
Less Bottoming Out because these AirLift RideControl air bags provide adjustable load support to help prevent the dangerous bottoming out.
Headlight Aiming is more accurate and correct when vehicle is at correct ride height.
Less Porpoising: Even vehicles which don't squat when loaded can begin to "porpoise" vertically when towing heavy trailers. Adjustable RideControl air springs dramatically reduce this problem for a safer, more comfortable ride.
Even Tire Wear happens when weight is evenly distributed to all four tires. Your tires will wear more evenly with this Ride Control Air Spring Kit.

Click above for more RideControl 59570 Info
---
Click Here to view Install Instruction
---
This Kit requires no additional purchase
You can Install this AirLIFT Kit & use an External Air Source
---
Make Life Easy with On Board Air....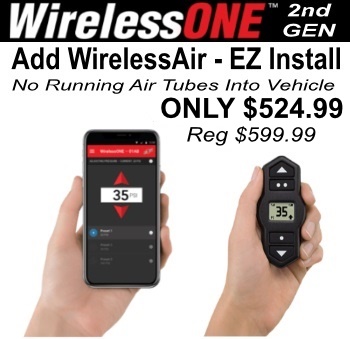 ---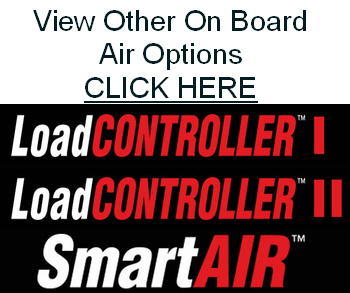 ---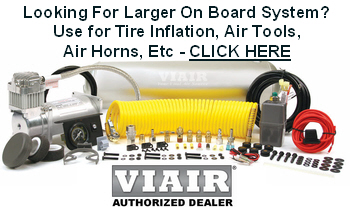 If you choose a Viair On Board System
you will need to also have a AirLift Control valve for adding air to the air bags from inside cab.
CLICK HERE FOR AIR VALVE/GAUGE
Have Questions? Call US
800-259-8627 (U.S.)
(602)617-5331 (Intl)
---
FREE SHIPPING WITHIN THE CONTINENTAL U.S.