Air Lift SmartAIR II Automatic Leveling Single Path Sensor 25490
Item #: AL25490
Manufacturer: Air Lift Suspensions
Manufacturer's Product Number: 25490
Condition: New

**FREE SHIPPING
Shipments within the Continental U.S. ONLY
Air Lift SmartAir™ II On Board Air System
Air Lift Part Number: 25490
This Kit Supersedes PN 40415
Single Path-Fill Air Spring Bags Evenly
Levels You Ride Automatically
Heavy Duty Compressor Designed For Commercial Use
Complete Kit-Everything Included
*NOT FOR USE WITH AIRLIFT1000 AIR SPRINGS*
Two Year Warranty
AUTOMATIC LEVELING SYSTEM
SmartAir™ II 25490 is Air Lift's exclusive automatic leveling system that detects when your vehicle is not level and automatically inflates or deflates your air springs to bring you back to your desired ride height. This is a hands off technology where you don't have to level the ride yourself. When you add a load to your vehicle the compressor will automatically turn on and level your ride. The when you take the load out of your vehicle the Smart Air will release air in your air springs and return vehicle to proper ride height.
EXCLUSIVE NON-CONTACT
-MAGNETIC HEIGHT SENSOR-
AirLift's SmartAir™II 25490 exclusive height sensor uses non-contact magnetic technology to maintain your vehicle's ride height. This reduces the possibility of malfunction due to dirt or other road debris interfering with a contact arm..
This is a SINGLE PATH SmartAir model. The Smart AIR single path allows for the inflation of both air springs at the same rate at the same time(see diagram below).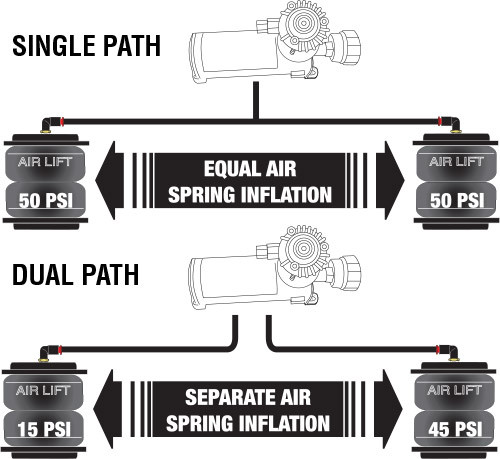 Click Here for DUAL PATH SmartAir™ Kit
EASY INSTALL
AirLift's SmartAir™II 25490 requires no lines or controls to be run into the cab making installation easy. SmartAir kits come complete with everything you need to quickly install; including a pre-assembled wiring harness, electronic sensor system and heavy duty compressor.
The SmartAir™ II 25490 air system installs with common mechanic tools in about 2 hours!
Click Here for Install Instructions
---
All on-board air compressor systems are quality tested in Air Lift's own ISO 9001:2008 certified facility.
ISO 9001:2008 standards ensure Air Lift products meet the highest level of safety and comfort.
Two Year Warranty
---
**FREE SHIPPING
Shipments within the Continental U.S. ONLY