Dual Trumpet Truck Air Horn-CHROME -140db Includes Solenoid
Click To Enlarge
Item #: ACHRSK-106
Manufacturer: Assured Performance
Manufacturer's Product Number: ACHRSK-106
Condition: New

Assured Performance Products
Dual Trumpet Truck Air Horn
*FREE SHIPPING*
Check Out our Video Below.
Actual Horn in the Chevy HD-See Video.

CLICK HERE TO WATCH ON YOUTUBE
Of course this video does not do justice to just how loud this horn 140db really is!!
Can be mounted under the vehicle body.
Perfect for Cars, Trucks and SUVs.
Great for RVs, OHV.
The trumpet design is flat so can fit almost anywhere.
This Horn get the attention of anyone in the area.
---
Specs:
Part# ACHRSK-106
DB: 140 @ 10M(120psi)
Solenoid(Electric Air Valve): Included (12v/24v).
Trumpets: 2
Trumpet Diameter: 3.7''
Trumpet Lengths: 14.0'', 11.65''
Overall Dimension: 14'' Long x 6.5'' Wide x 3.7'' Tall
Trumpet Material: CHROME Plated Zinc(non-corrosive)
Mounting Hardware: Included
*Mirror Finish-Trumpets will look like new for years to come.
*Works on any 12v or 24v system.
*Rated for 80- 180psi max.
*Super Loud-Great Bang for the Buck!!
*Can fit these trumpets in tight areas like behind a bumper.
*Over-sized Hi-Flow Air Solenoid
*This item does NOT include the air source needed to operate.
Need an air system for your ride???
NO PROBLEM!!!
CLICK HERE to View Our Complete Kits
---
You can use OE Horn Switch (steering wheel) to activate solenoid.
You don't want to use your OE Horn Switch??
Choose option to include Horn Button Switch.
OR
Do you want to Look and Feel like a Big Trucker???
Choose option to include Manual Air Valve Kit w/Lanyard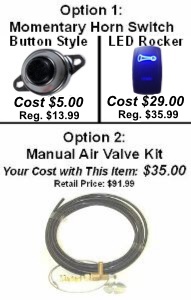 CLICK HERE TO VIEW MANUAL VALVE KIT
---
This Super Loud Dual Trumpet Truck Air Horn will get you noticed and will wake up inattentive drivers that share the road with you. This Assured Performance ACHRSK-106 airhorn sold exclusively by Assured Automotive Company. This popular Truck horn will work in cars, RV, SUV and of course make for a great pickup truck air horn. The dual trumpet design makes is easy for mounting. Some popular spots for mounting this horn is behind front bumper or between radiator and grill. Do not be steered wrong by the inexpensive cost of this horn, The cost is cheap, but not the quality. This air horn has zinc trumpets that will not rust. The diaphragm housing are made of cast aluminum and are powder coated black. This air horn is not for the average person, this horn is super loud. This truck air horn does require an on board air system. We sell this dual trumpet truck horn in a complete kit with Viair Air Systems. All Assured Performance Truck or Train style air horns in include a manufacturer defect warranty.
---
*FREE SHIPPING!!!
*For Continental U.S. Shipments ONLY