Gloss Black MONSTER 6" Angled Outlet 12" Long Exhaust Tip
Item #: ACD35-4060SR-BKG
Manufacturer: Assured Performance
Manufacturer's Product Number: ACD35-4060SR-BKG
Condition: New

Assured Performance Products
100% T304 Stainless Steel
Gloss Black High Temp Powder Coating
Will NOT Rust
Professional Grade Custom Exhaust Tips.
Installs in Minutes with our Quick Clamp System.
Discounted Price When Buying 2 or More.
Available in 4 inch Inlet for Stock Dodge Cummins Diesel Tailpipes
Available in 3.6 inch Inlet for Stock Ford and Chevy Diesel Tailpipes(pre '08)
Specs:
Part#: ACD35-4060SR-BKG
Available Inlet Sizes: 3.6'' I.D. & 4''I.D.
Outlet Size: 6.0''O.D.
Overall Length: 12.0''
Material: T304 Stainless(Heavy-1.66mm).
*Inside Rolled Outlet.
*Round Outlet
*Angled Outlet(22 degrees).
*Monster 6" Outlet
*High Temperature Durable Powder Coating
* Clamp included for Easy Installation.
*We do recommend welding this tip on to keep it from growing legs and walking off!!!
*Gloss Black Finish.
---
Below is a comparison chart for Gloss & Flat Finishes
This Exhaust tip has a GLOSS Finish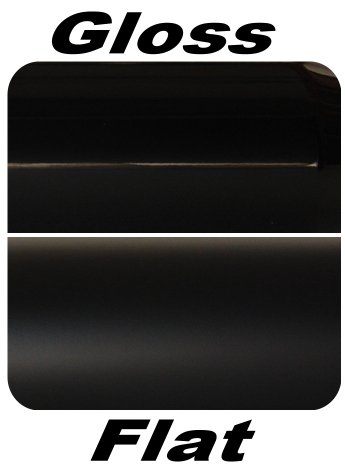 ---
This Assured Performance "Black Powder" diesel exhaust tip is sold exclusively by Assured Automotive Company. The Assured Performance ACD35-4060SR-BKG muffler exhaust extension is made from the best stainless steel available, T304 Grade. Our stainless will not rust over time. Our Exhaust Tips will NOT rust like chrome over steel will. This tip is coated with Gloss "Black Powder" high temp powder coating. This ACD35-4060R-BKG tip can withstand temps of up to 300 degrees. Beware of other dealers online selling ''stainless'' exhaust tips, they are most likely using a lower grade stainless steel. The A.P. ACD35-4060SR-BKG exhaust tip will finish off your diesel truck, SUV or van looks. This ACD35-4060SR-BKG custom exhaust tip with its monster 6" Outlet will give your truck the custom look, hiding that horrible looking tailpipe. The ACD35-4060SR-BKG diesel exhaust tip has a 22 degree slanted or angled rolled outlet.
This tip is available with a 3.6" ID inlet for the stock Ford Powerstroke (pre '08) or the GM Duramax (pre '07 ½ ). It is also available in 4" ID Inlet for stock Dodge Ram Cummins Diesels or aftermarket 4" exhaust systems. Please note that some Ford Powerstroke exhaust pipes were 3.5" OD in size. In the case you can use a shim to gain and use the 3.6"ID inlet size.
Assured Performance Stainless Steel Exhaust tips come with a LIFETIME WARRANTY against rust.
---
*FREE SHIPPING!!!
*For Continental U.S. Shipments ONLY