Gloss Black Z-Classic Slant Rolled Exhaust Tip 4"OD 12" & 18"L
Item #: AC4012-18SR-BKG
Manufacturer: Assured Performance
Manufacturer's Product Number: AC4012-18SR-BKG
Condition: New

Assured Performance Products
Gloss Black High Temp Powder Coating
Will NOT Rust
Weld On Style-Professional Grade Custom Exhaust Tips.
Discounted Price When Buying 2 or More.
Specs:
Part#: AC4012-18SR-BKG
Inlet Size(ID): 2.25"
Outlet Size(O.D.): 4.0''
Available Overall Lengths: 12'' and 18'' Long.
Choose Length in Option Menu.
Material: T304 Stainless(Heavy-1.66mm)
*Slanted Outlet(20 degrees)*Inside Rolled Outlet
High Temperature Durable Powder Coating
*Welds on in minutes-will not rattle or fall off like Clamp on Style tips.
*Gloss Black Finish.
---
Below is a comparison chart for Gloss & Flat Finishes
This Exhaust tip has a GLOSS Finish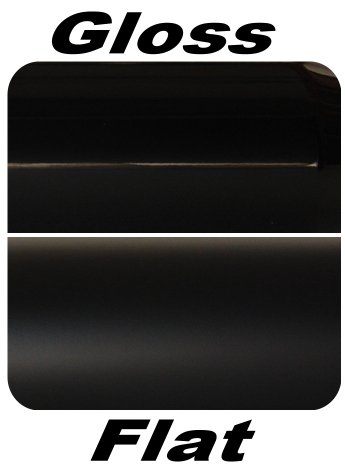 ---

Have a Larger or Smaller Tailpipe than 2.25 inch???
NO PROBLEM!!!
Exhaust Tip can be cut on the inlet taper to accommodate your Tailpipe Diameter Larger than 2.25
You can also use one of our Stainless Steel Reducers.
CLICK HERE for Stainless Reducers
This Assured Performance exhaust tip is sold exclusively by Assured Automotive Company. The Assured Performance AC4012-18SR-BKG muffler exhaust extension is made from the best stainless steel available, T304 Grade. Our stainless will not rust over time. Our Exhaust Tips will NOT rust like chrome over steel will. This tip is coated with Gloss "Black Powder" high temp powder coating. This AC4012-18SR-BKG tip can withstand temps of up to 300 degrees. Beware of other dealers online selling ''stainless'' exhaust tips, they are most likely using a lower grade stainless steel. The A.P. AC4012-18SR-BKG Z-Classic exhaust tip will finish off your car or truck looks. This AC4012-18SR-BKG custom exhaust tip will give your vehicle the custom look you've been looking for with the 20 degree slant inside rolled Z-Classic outlet. The AC4012-18SR-BKG exhaust tip has the great muscle look that most car/truck buffs are looking for in an exhaust extension. This 4" OD Outlet exhaust tip is available in 12" long and 18" Long versions. Choose preferred length in option menu.
Assured Performance Stainless Steel Exhaust tips come with a LIFETIME WARRANTY against rust.
---
*FREE SHIPPING!!!
*For Continental U.S. Shipments ONLY