RIGID 321613 D-XL Series PRO LED Light Pod D2 Driving Single
Item #: ACRD321613
Manufacturer: Rigid Industries
Manufacturer's Product Number: 321613
Condition: New

**FREE SHIPPING
Shipments within the Continental U.S. ONLY
Rigid D-XL Series PRO 321613
A RIGID ''D2 Dually XL'' Driving Projection LED Light
DXL-Series PRO (Professional Race Output)
Each D2 D-XL Light uses Blacked-Out Circuit Board
Producing over 9504 Lumens and only using 89 watts
The brightest compact auxiliary light available to date
Temperature sensors that will save the circuitry.
Perfect for Cars, Trucks and SUV's
Great for ATV, Motorcycle, or UTV's
A Must for ALL Offroad Vehicles
Mounts on A-Pillars, Bumpers, or Roll Bars.
PRO Rigid D-XL Series
With the enormous popularity of the original Rigid D-Series came the need for a slightly larger, more powerful lighting solution. The RIGID D-XL PRO boasts more light than ever before in a housing that measures 4"x4". Recent improvements to the LEDS in the D-XL Series PRO with its new PROfessional Race Output of up to 170% more raw lumens while maintaining the efficiency that is the hallmark of the entire RIGID product line. Featuring an unbreakable polycarbonate lens, durable UV-resistant polyester powder coat, stainless steel hardware, and a vibration isolator, the D-XL Series PRO is available with your choice of beam pattern optics. Recent updates include new RIGID branding and blacked-out circuit boards for a more refined look. Whether it's off-road, power sports, general automotive, mining, agriculture, or fire and rescue, the D-XL PRO is perfect for any application that requires a high intensity LED light.
Specs:
Item#: ACRD321613
RIGID PN: 321613
SOLD IN SINGLE
Available LED Color: WHITE
Projection: DRIVING
Watts: 89
AMP Draw: 6.36
LED's: 12
Lumens: 9504
Lux @ 10m: 639 ea
Beam Distance at .25 LUX: 505 ea
Fixture Dimensions: 4''W x 4''H x 3-1/4''D (each fixture)
Overall Dimensions: 4-3/4''W x 4-1/2''H x 3-/1/4''D (each fixture)
No Legal for Highway Use
1 sale = 1 LED Light Fixtures
Includes:
Stainless ''U'' Bracket/Hardware
Mounting Hardware
Plug-n-Play Wire Harness
Deutsch Connenctor and Switch
Features:
Patented Specter Optics
Driving Beam Pattern
50,000+ Hr LED Lifespan
Instant On / Off - No Warm Up
RoHS Compliant
Over / Under Voltage Protection
Cast Aluminum Housing
Durable Polycarbonate Lens
Virtually Unbreakable Lens
Integrated Thermal Management
GORE® Pressure Equalizing Vent
Designed, Engineered, & Assembled in the USA
Sealed Deutsch Connector
---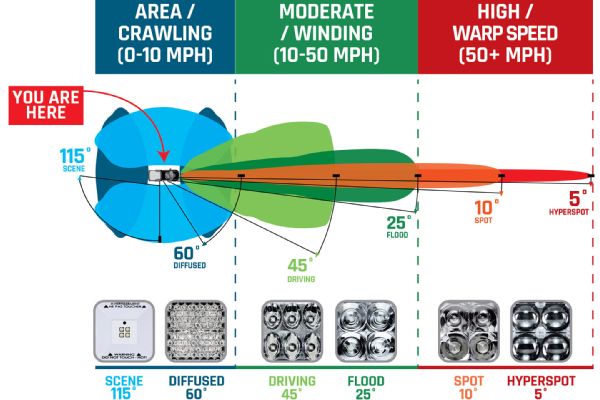 ---
ADD PROTECTIVE LENS COVERS IN OPTION MENU<
**FREE SHIPPING
Shipments within the Continental U.S. ONLY
---