RIGID 40230 Universal ATV HandleBar Mount Kit for D-Series LED
Item #: ACRD40230
Manufacturer: Rigid Industries
Manufacturer's Product Number: 40230
Condition: New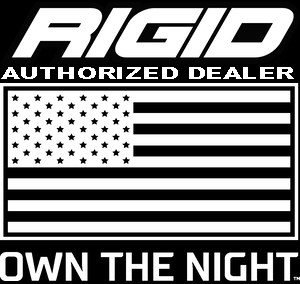 *FREE SHIPPING!!!
*Continental U.S. Shipping ONLY
Rigid Universal Handle Bar ATV Mount
for Pair of Rigid D-Series PRO LED Lights
Features
Includes Mount for nearly any ATV that uses 2 or 4 bolt (narrow and wide) style handle bar.
Supports a Pair of Rigid D-Series LED lights
Mounts on Wide Style like Honda-Suzuki-Can-Am-Kawasaki ATVs
Mounts on Narrow Style like Yamaha ATVs.
Beam Pattern provides superior visibility for slow speed and high speed riding.
Rotates with handlebars so you can see where you want to go.
Specs:
Item#: ACRD40230
Universal Mounting Bracket for WIDE or NARROW 2 & 4 Bolt ATV Bar Clamp
Manufactured in the U.S.A.
RIGID Limited Lifetime Warranty
---
*FREE SHIPPING!!!
*Continental U.S. Shipping ONLY