RIGID 46511 Dually D2 LED Fog Light Kit 14 15 GMC Sierra 1500
Item #: ACRD46511
Manufacturer: Rigid Industries
Manufacturer's Product Number: 46511
Condition: New

**FREE SHIPPING
Shipments within the Continental U.S. ONLY
RIGID Industries GMC Sierra 1500 Fog Light Kit
Fits 14-15 Sierra 1500
Rigid PN: 46511
Mounts in existing Fog Light Cavities in front bumper.
Utilizes Existing Mounting Holes.
No Drilling Required
Made of 304 Stainless Steel
Cardinal BK--59 Corrosion/Scratch Resistant Powder Coat.
Allows for Mounting of 2 D-Series Lights-1 in each side.
All hardware needed for installation is included.
Includes detailed instruction for installing.
Designed for Offroad Use Only.
Manufactured in the U.S.A.
RIGID Limited Lifetime Warranty
You can add the lights to this order and save!!
You can choose WHITE or AMBER LEDs
You can choose Dually or D2 Lights.
You can choose the Projection.
This item fits the following applications:
2015 GMC Sierra 1500
2014 GMC Sierra 1500
This Rigid Fog LED Light kit 46507 is for the 20014-2013 GMC Sierra 1500 pickup trucks. Drive much safer when you can see further up the trail. These 46507 Rigid mounts allows you to mount a pair of Rigid D-Series lights in the factory fog light cavities. You can save some dough when you purchase the lights with these brackets. This item makes for a great gift idea for the GMC Sierra 1500 owner.

---
If You Don't Already Own A Pair of D-Series LED Lights
Add Them To This Order And Save!!
-See Option Menu-
---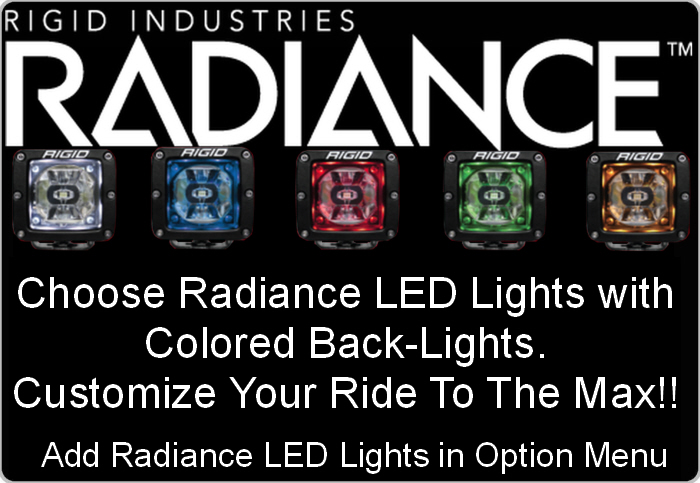 **FREE SHIPPING
Shipments within the Continental U.S. ONLY