RIGID Universal ATV Handle Bar Mount Kit w/Dually LED Lights
Item #: ACRD40230KIT-UNV
Manufacturer: Rigid Industries
Manufacturer's Product Number: 40230
Condition: New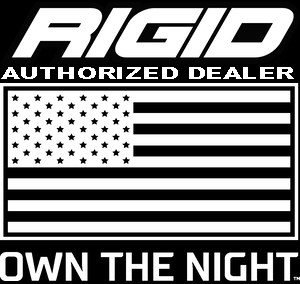 *FREE SHIPPING!!!
*Continental U.S. Shipping ONLY
Pair of Rigid Dually LED Lights
and Universal Handle Bar ATV Mounting Kit
Features
Includes Mount for nearly any ATV that uses 2 or 4 bolt (narrow and wide) style handle bar.
Pair of 4 LED lights in a compact 2x2 package.
Mounts on Wide Style like Honda-Suzuki-Can-Am-Kawasaki ATVs
Mounts on Narrow Style like Yamaha ATVs.
Beam Pattern provides superior visibility for slow speed and high speed riding.
Low power draw for use with OEM type electrical systems with no extra batteries or re-wound stators needed.
Over 3000 Lumens of light
The Dually light has more light output then a 50W MR16
Durable sealed housing with no filaments to break or burn out.
Rotates with handlebars so you can see where you want to go.
Pulling only 20w(each) you won't find a more efficient light
Just over half the watts that your stock turn signals use.
Instant ON-No Waiting for Light To Warm Up
Wire into Your Existing Light Switch or
use the Switch included in the kit.
Ultra long life (50,000 hours which would equal 96 years if you used it for 10 hours every weekend)
Specs:
Item#: ACRD40230KIT-UNV
Pair of Dually LED Lights
Universal Mounting Bracket for WIDE or NARROW 2 & 4 Bolt ATV Bar Clamp-PN:40230
Projection Pattern: SPOT / FLOOD (You Choose)
Volts: 9-36vDC
Watts: 20(each light)
AMP Draw: 1.45(each light)
3168 Lumens(TOTAL)
3.19'' Width x 2.94'' Height x 3.19'' Depth(each light)
Manufactured in the U.S.A.
RIGID Limited Lifetime Warranty


---
This kit is perfect and will work on nearly any ATV handlebar clamps. We include a pair of the Rigid Dually LED Lights with every purchase of the kit. You also have an option to upgrade to a pair of the super bright Rigid Dually D2 LED Lights. Upgrade to to the D2 lights and get even more light, over 6000 Lumens total. The Dually lights are available in Spot(20221) or Flood(20211) lens projection. You can also choose White or Amber color LEDS for the lights.
Why is Rigid Better than ALL the Others?:
-Authentic LED Chips and Driver Circuitry.
-Reverse Polarity Protected
-IP68 Certified ROHS Compliant
-Gore Pressure Equalizing Vents.
-Unbreakable Polycarbonate Lens
-A360 High Purity Aluminum Cast Housing.
-Durable UV 3800 Polyester Powdercoat.
-Aluminum Coating for Ultimate Optical Performance
-Sealed Deutsch Connectors
-Over/Under Voltage Protection
-Operating Temperature -40 to +145 deg. F.
-MIL810-STDG Vibration Certified
-ASTMB117 Salt/Fog Certified
-Superior Protection Against RFI/EMC Interference.
-Integrated Thermal Management System.
-Unmatched Patented Product Designs
-Patented Hybrid Optics (Patent# 6,986,593, b2)
-Engineered. Designed and Assembled in the U.S.A.
-Rigid Limited Lifetime Warranty
*Choose the Dually Light Pattern(Spot or Flood) and LED Color (White or Amber).
*You can also choose to Upgrade to the 6060 Lumen D2 Lights
*Options to Add Protective Lens Cover.
(Black and White covers are solid-All Other color covers are optical).
*FREE SHIPPING!!!
*Continental U.S. Shipping ONLY
---