Rigid Radiance Plus 240023 40" LED Light Bar Kit RED Back Light
Item #: ACRD240023
Manufacturer: Rigid Industries
Manufacturer's Product Number: 240023
Condition: New

**FREE SHIPPING
Shipments within the Continental U.S. ONLY
Rigid Radiance+ 240023 40" LED Light Bar
with Red Back Light
The all-new Rigid Industries' RadiancePlus is the perfect solution for those who want Rigid's legendary quality at a level everyone can attain. The Radiance Plus is built with the same high-grade aluminum alloy housing as our legendary E-Series, but that's where the visual similarities end. Inside, the Rigid Industries' Radiance+ is feature-packed, with a black exposed printed circuit board, optimized forward projecting Broad Spot optics which combine the attributes of a spot and flood beam pattern, and back-lighting available in white, amber, red, blue and green. Large back-lit Rigid branding plates further add to the unique look of the Radiance. The Rigid Industries' Radiance+ is for the customer who wants a truly custom look that only Rigid can provide. Available in 10" – 50" lengths, the Rigid Industries' Radiance+ is the perfect entry into Rigid Industries' performance LED lighting. Radiance Plus light bars now include a wiring harness and multi-trigger switch for a quick and painless installation.
Features & Specs:
Rigid PN: 240023
High Grade Aluminum Alloy Housing and Heat Sink
Dedicated Wire for Back-Lighting Function w/out Primary LED's
IP68 Compliant - Dust / Water Ingress
High Impact Poly Carbonate Lens
GORE Pressure Equalizing Vent
9-15 Volt DC
LEDs: 21
LED Color: White
Back-Lighting Color: Red
Watts: 204
AMP Draw: 14.57
Total Lumens: 16632
Lux @ 10m: 2595.99
Beam Distance: 509.5m
Includes Multi-Trigger Switch Wiring Harness
Includes EZ to Read Install Instructions
Full Rigid Limited Warranty


CLICK HERE TO ENLARGE
40'' Beam Pattern


---
Why RIGID Lights??
Get More for less by Going GREEN!
Decrease your expenses and reduce your power consumption. Light is measured in Lumens per watt. How much light is produced for every watt of electricity used? Simply put, Rigid LED Lights eliminate the need for generators and reduce the drain on your battery compared to tradition lighting. With 10 years+ of redefining LED Lighting for the Power Sports Industries, Rigid Industries patented technologies and high performance products continue to raise the bar.
LED Lifetime - 50,000+ hours
LEDs are solid state devices with no moving parts. Rigid LED Lights are able to withstand shock and vibration better than traditional Halogen, HID and Xenon lights. The expanded life of the LED means that theyll last for over 50,000 hour compared to Halogen and Xenon lights which typically last up to 1,000 and 5,000 hours respectively. Considering the extreme conditions in the marine environment, Rigid LEDs are the logical choice for all your lighting needs.
Tired of Changing Bulbs and Repairing Damaged Parts?
Rigid LED Lights are manufactured to withstand the harshest environments that mother nature can dish out. The LED Lights are made with only the finest marine grade materials available. Rigid Industries manufacturing process ensures LED Lights that are resistant to water penetration, shock and vibration. Touch them once, then sit back and admire the performance for the life of your boat. Everything should be this simple and enjoyable.
Crisp, Clear, Consistent Lights
As light bulbs age, their color consistency and brightness diminishes. New replacement bulbs will look noticeably different compared to the remaining bulbs. Customized LED binning ensures only the highest consistency of LED color and brightness for manufacturing of your Rigid LED products. Rigid LED Lights are turned on quickly and efficiently with little battery draw. HID and Xenon technologies quickly drain huge amounts current at start up in order to power the bulbs.
---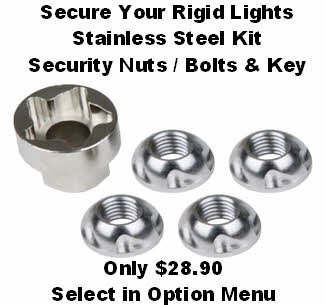 ---
**FREE SHIPPING
Shipments within the Continental U.S. ONLY