VIAIR 20007 380c Air Compressor 200psi Kit 2 Gallon Tank
Item #: ACV20007
Manufacturer: VIAIR Corporation
Manufacturer's Product Number: 20007
Condition: New

This Unit is perfect for:
Small and Large Air Horns
Air Lockers for 4x4
Emergency Air
Re-Airing tires(small to large size)-No more having to stop for air!!
Air for Pneumatic Tools
Pickups-Jeeps-Cars-Boats-RVs-Campers-Anything.Can Mount to plywood platform-use as a portable unit.
VIAIR 380c(200psi) w/2 Gallon Tank Kit
Installs in just minutes
The OffRoaders Best Friend!!

VIAIR 20007 Compressor Kit Specs:


VIAIR PN: 20007
VIAIR 380c Compressor
200psi (100% Duty @ 100psi)
Duty Cycle Explained-CLICK HERE
12 volt Permanent Magnetic Motor.
Max Working Pressure of 200psi.
16 Amp Draw
Min. Ambient Temp.: -40 F.
Max. Ambient Temp.: 158 F.
2 Gallon Tank
Overall Dim: 18.98''L. x 5.94''W. x 14.5''T.
This Kit also includes:
*Pressure Switch(165psi ON--200psi OFF)
*Compression Fitting for 1/2'' Air Tubing.
The compression included can easily be changed.
*250psi Pressure Safety Valve
*Drain Cock
*Just Mount w/4Bolts-Run Power Leads and then PLAYTIME!!
*Complete Instructions
*VIAIR 1 Year Warranty against Defects
---
VIAIR 20007 Fill Rate
0 to 200 PSI -----5 Min. 39 Sec.
165 to 200 PSI -----1 Min. 29 Sec.
This Viair 20007 Plug n Play style kit is ready to go. Just wire with an inline fuse. Instructions do suggest using a relay and powering relay through an ignition source and switch inside the vehicle cab. This kit is perfect when out on the trail. AT 200psi rating the Viair 380c compressor is super fast filling and powerful enough just about any airing jobs. This 20007 Viair kit is designed to stand upright, just like is shows in the picture. It can be placed in the trunk of a car or in the bed of a truck. It is NOT designed to be mounted upside down or sideways. If you looking for a durable and handy 12vDC compressor tank kit, this is your answer. Also make for a great gift idea.
Purchase with confidence, we are an Authorized VIAIR DEALER.
---
Don't forget to get your Tire Fill Hose Kit
Choose 1 of 2 VIAIR Tire Fill Hose Kit options below:
The first of the two options (Yellow Hose Kit-Top of Pic Below) is Viair 35' Coil Air Hose and is 200psi rated. This kit includes a Female Quick Connect fitting and Male Quick Connect Studs(2). Also includes a tire chuck. (PN:ACV0037-KT)
The second of the two options (Digital Hose Kit-Bottom of pic) is the Viair Digital Tire Fill 30' Hose Kit. Includes Digital Tire gauge that reads 0-200psi. Also includes a canvas protective carrying case. (PN:ACV00044)
CLICK HERE for Digital Tire Fill Kit Info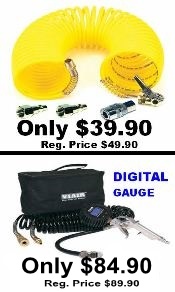 ---
*FREE SHIPPING!!!
*For Continental U.S. Shipments ONLY