VIAIR 400c Air Compressor 5 Gallon Complete 150psi On Board Kit
Click To Enlarge
Item #: VIAIR 400c-5Gal Kit
Manufacturer: VIAIR Corporation
Condition: New

This Kit is Perfect For:
Air Supply for Truck or Train Air Horns
Air Supply for Air Lockers
Air Supply for Air Suspension
Air Supply for Air Springs
Tire Airing(even large tires).
Small Pneumatic Tools.
VIAIR Compressor Kit Specs:
VIAIR 400c Compressor
150psi (33% Duty @ 100psi).
Duty Cycle Explained-CLICK HERE<
Compressor Dimensions: 8.96'' L. x 3.94'' W. x 6.77'' H.
5 Gallon Tank-4 Fitting Ports
Port Sizes 1/4''NPT(2) and 3/8''NPT(2)
Air Tank Dimension: 20.7"L. x 9.13"W. x 10.5"H.
This On Board System Also Includes:
*30 amp-150psi for 12v. System ONLY.
*Illuminated Dash Panel gauge w/ON/OFF Switch.
*Pressure Switch w/Built in Relay.
*20 Feet Air Lines Tubing.
*20 Feet Positive Wire /Inline Fuse
*1/4" Quick Connect Coupler for other Air Needs.
*Female and Male Tees.
*Reducer and Compression Fitting.
*Female and Male Electrical Connectors.
*Ring Electrical Connectors.
*Cable Ties and Cable Tie Brackets.
*Nuts/ Screws/ Washers.
*Continuous Grommet Strip.
*Complete Instructions.
*VIAIR 1 Year Warranty against Defects
---
5 Gallon Tank Fill Rate w/VIAIR 400c Compressor
0 to 105 PSI -----2 Min. 55 Sec.
0 to 145 PSI -----4 Min. 50 Sec.
85 to 105 PSI----0 Min. 35 Sec.
110 to 145 PSI-----1 Min. 45 Sec.
This Viair medium duty on board air system produces a whopping 150psi. The Viair 400c compressor is 33% Duty at 100psi. There are options to upgrade to the 100% Duty 350c, 450c, 480c or to the Dual Pack 400c or 480c compressor kits The 5 gallon air tank will allow to to have plenty of air when air demand is needed. Like airing tires or using air tools. The tank can fit in most truck tool boxs, in a truck bed, or even under most truck bodies. This Viair Kit is perfect for most air horn applications, air spring kits, air suspension, air lockers or air tools and even airing large tires. The small but mighty 400c (40040)compressor will recover the air tank from 110psi to 150psi in less than 2 minutes!!
The kit includes the Viair patented air filter relocation kit. This way the 400c air compressor can be mounted under the vehicle and filter can be in a location that has clean air. Ideal places for the air filter is in engine compartment, installed inside the vehicle, under a seat or under a bed rail is also ideal. This will extend the life of the compressor greatly. This Viair medium duty kit includes a 2" air pressure gauge along with a on/off switch. The Viair 110psi ON and 150psi OFF pressure switch / relay combo makes wiring a breeze. The kit also includes 20 feet on ¼" air tubing along with plenty of fitting.
Purchase with confidence, we are an Authorized VIAIR DEALER.
---
Don't forget to get your Tire Fill Hose Kit
Choose 1 of 2 VIAIR Tire Fill Hose Kit options below:
The first of the two options (Yellow Hose Kit-Top of Pic Below) is Viair 35' Coil Air Hose and is 200psi rated. This kit includes a Female Quick Connect fitting and Male Quick Connect Studs(2). Also includes a tire chuck. (PN:ACV0037-KT)
The second of the two options (Digital Hose Kit-Bottom of pic) is the Viair Digital Tire Fill 30' Hose Kit. Includes Digital Tire gauge that reads 0-200psi. Also includes a canvas protective carrying case. (PN:ACV00044)
CLICK HERE for Digital Tire Fill Kit Info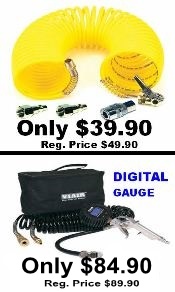 ---
You can also upgrade the compressor in this kit!!
See Compressor Upgrade Option
---
*FREE SHIPPING!!!
*For Continental U.S. Shipments ONLY